I'm excited to share that Yael Dror, co-founder of Habitz, is releasing a new book, "Raising Healthy Eaters"! This is another step in Yael's journey toward helping families eat healthier and raise their kids with good habits for life.
"I believe you need to teach children to identify and deal with their daily challenges as part of establishing good habits for life. Using the Habitz App is a wonderful way to let children take the lead, make smart choices and feel good about themselves by getting positive rewards from the app and from family," says Yael Dror. "When I saw my kids using Habitz, I was amazed by their enthusiasm and the conversations we had about how the app guided them through their daily challenges."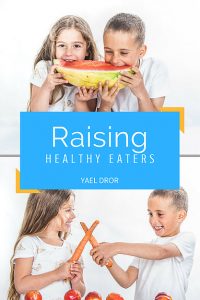 In "Raising Healthy Eaters," Yael is taking another step towards accomplishing her mission. In the book, Yael shares her knowledge and experience in children's nutrition in a family-friendly way. Her writing is clear, and the book contains many practical tips and delicious recipes. The recipes in the book are all from her own kitchen with a strong influence of the "Mediterranean Diet," which is known to be one of the healthiest diets in the world! She believes that in order for kids to develop healthy eating habits, the whole family needs to eat in a healthy way.
Yael Dror is not only a renowned nutritionist, she is also the mother of three energetic children. Since 2000, she has served as a chief dietician in Schneider Children's Hospital in Israel. For many years, Yael was a professional consultant for "Hop," a children's TV channel. She also had a weekly nutrition segment on radio shows, TV shows, and even the "Good Morning Show," Israel's most popular show.
Currently, Yael is passionate about finding a way to help American children grow up making "smart food choices." She believes that if you start at a young age, these smart food choices will help them be healthier and reduce the risk of overeating, obesity, and the associated chronic diseases (diabetes, heart disease, hypertension and more). Developing the Habitz App, which is designed for kids to make every-day smart food choices, was the first step in reaching out to American families. While Yael is working with many families at her clinic in Sunnyvale, California, guiding them and helping them reach their optimal nutrition levels, this still has only a local impact. The urge to help as many families as possible was part of her vision when she started working on the Habitz App.
I highly recommend you to download the e-book version of "Raising Healthy Eaters" now FREE from www.yaeldror.com. Together with the Habitz app, it will give you the best support to get your family eating healthy and tasty food for life.
---
| | |
| --- | --- |
| | Daniel Fishkov is a father of 2 who is passionate about building products that matter. He has built more than 17 mobile and cloud based products that are being used in wide range of industries. Daniel co-founded Habitz with the mission to make dietitian, behavioral and other healthy lifestyle coach services available and accessible to millions of families around the world. |